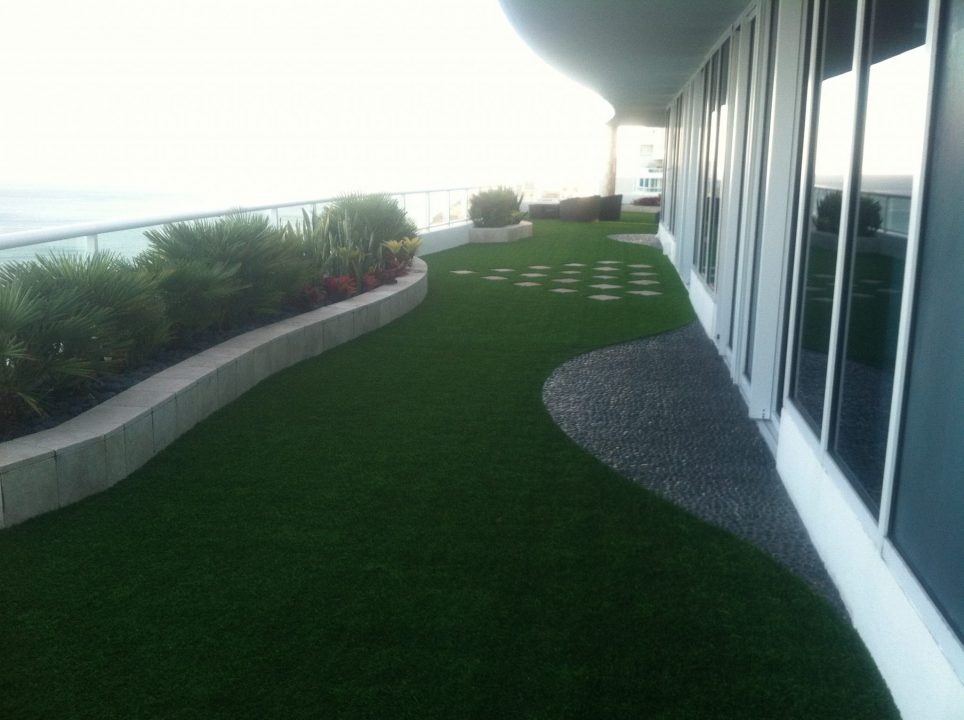 Fake Grass Solutions for Rooftops, Terraces and Balconies
Get a green rooftop, terrace, or balcony with a synthetic grass installation. Turn unused space into desirable outdoor living space.
A balcony and rooftop terrace generally have a solid surface which is not attractive and feels hard to the feet. Sunlight heats concrete and stone to high temperatures, and in the cities, the heat creates an uncomfortable environment rendering the space seldom used. That's changing. Durafield Durafield® artificial turf is transforming these areas into cozy, beautiful and functional outdoor living spaces.
Green Roof & Balcony Photo Gallery
Check out photos of our various green roof and balcony applications. Turning rooftop, terrace and balcony spaces into usable environmentally safe and maintenance free space.
A yard on the ground requires soil preparation, careful grass seed selection, aerating, mowing, watering, weeding and fertilizing. Improper fertilizing is harmful to people, pets and ground water. It takes time and equipment to maintain a traditional yard. Installing fake grass instantly creates a beautiful yard that is maintenance-free for years. Fake grass is ideal for higher elevations like a terrace, balcony and rooftop.
Benefits of Fake Grass
It looks and feels like real grass.
It looks well tended all the time.
It is practically maintenance-free.
Watering is not needed.
Chemicals and fertilizers are not needed.
It never needs mowing.
It's non-toxic and lead free.
It does not attract pests.
It does not require weeding.
It is made from environmentally friendly materials.
It is safe for children and pets.
Fire resistant standards are met or surpassed. The color is fade resistant and available in attractive shades.
Residential and commercial landscape designs are taking advantage of synthetic grass. A green roof adds a new affordable outdoor living area. Space that is generally ignored is transformed into an area that brings people and pets out to enjoy outdoor activities.
Durafield® artificial grass is ideal for small balconies. It adds a relaxing and elegant touch to urban living. Fake grass on a terrace is a fine space to gather with friends. A grand green roof open to the sky is attractive to everyone.
A green roof is easy to install over hard rooftop surfaces, including asphalt and concrete. The synthetic grass looks upright. If it flattens, a light brushing will straighten it up. The backing allows for drainage from rain. Pet urine evaporates or is absorbed. Clean-up methods for solid waste are no different from cleaning pet waste on natural grass. If desired, the synthetic grass can be cleaned by spraying water from a hose onto the soiled area.
Artificial turf turns unused space into desirable outdoor living space. It looks fantastic throughout every season. It's an easy choice for commercial and residential balconies, terraces and rooftops. Synthetic grass is affordable, durable and enhances the quality of life.