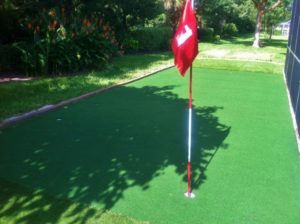 Need putting greens in Delray Beach? You'll be glad to know that our installation services are affordable and reliable. Your greens will be beautiful and you won't have to deal with hours of landscaping. In fact once we set it up, you can basically forget it.  That's right, your dream putting area is easy as can be and is well within your budget. In fact, you'll save money on all the upkeep you no longer need.
Call us today to find out more on how you can get a full artificial grass greens installation for a great price.
Artificial Grass Is a Must for Your Putting Greens
Here's why you'll be glad you switched to a synthetic grass:
You'll have a lot more time on your hands, because you won't be outside taking care of grass.
You"ll feel better because you won't have to pull weeds and push a lawnmower.
You'll save money because you won't have need lawn upkeep or grass fertilizers.
You'll help the world, because you won't need to dowse your lawn with chemical insecticides and herbicides.
As you can see, having an artificial grass is easy as can be and actually saves you time and money.
Call Durafield for Beautiful Fake Grass!
Here's why you'll love our services:
Your putting area will be installed with the best artificial grass.
Your synthetic grass lawn is guaranteed up to 15 years.
You get the very best customer service from the word go.
You'll get an appointment that fits your schedule.
You'll get the very best quality artificial grass when you count on us for installation for your home or business.
Call us now for the best artificial grass services.