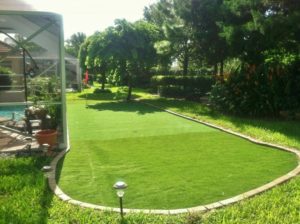 Are you thinking of having artificial grass installed for your putting green in Pompano Beach? You'll be glad to know that you'll get a great price on your installation when you partner with us. Not only will you save money with us, you'll also get a reliable service that's backed by warranty that lasts up to 15 years.
The Best Artificial Grass for Your Putting Green
Here's why you'll love having artificial grass:
You don't have to spend time on never ending maintenance.
You don't have to spend money on upkeep.
You don't have to break your back mowing and pulling weeds.
You won't have to use toxic lawn chemicals and harm your local environment.
Having a stunning putting green is easier than ever before!
Call Us Today: Durafield!
Here's why you'll get the best service from us:
Your grass will be warrantied up to 15 years.
Your putting green will be installed with top quality synthetic grass.
You'll get top quality customer service.
Your appointment will always match your busy schedule.
You'll get the best synthetic grass when you have us install your new lawn.
Call us today for a beautiful and affordable lawn.