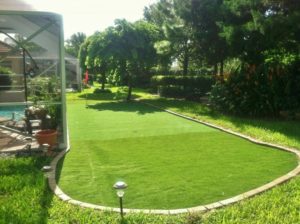 Is it time to redo your putting greens in Fort Lauderdale? Do you want to lay done something that needs little maintenance and is competitively priced? If you're tired of all the work and money that goes into maintaining natural grass, you'll be glad to know there's a better way. Artificial turf is competitively priced, requires little maintenance, and always look lush and beautiful. It's also an excellent surface to play on and never gets muddy or boggy. Not only will it stand up to Florida's extreme sunshine, it holds it's own to cleats and sneakers.
Putting Greens in Fort Lauderdale You Can't Beat
Call us today for a great price on your artificial turf installation for your putting greens. You'll love the service you get from us.
Here's why synthetic turf is the best choice for your golf game:
You'll save money on day one because you won't need to water or mow your field.
You'll save time because you won't be managing grass maintenance.
You won't be exposed to chemical pesticides or fertilizers anymore.
You'll have more game time because rain won't flood out your field.
Another great thing is artificial grass pays for itself a the end. You no longer need to pay to water it, mow it, manicure it, fertilize it, or rid it of pests. That adds up and is truly a relief when you don't have to shell out the cash every month.
Why Call Durafield for Your Installation
Here's what you'll enjoy about using our services:
You'll get incredible customer service.
You'll get a solid warranty that lasts up to 15 years.
You'll get installation from pros.
You'll get a competitive price.>
Call us now for a fantastic synthetic putting green installation.